What's New
The 99th Bomb Group Newsletter Archive
August 29, 2017
On behalf of the 99th Bomb Group Historical Society (BGHS) Officers, Board of Directors, and the membership it is our privilege to recognize George and Donna Coen for their contributions and donations as "Friends of the 99th" to preserve the 99th BGHS Newsletters by having them scanned in electronic format for posting on the 99th BGHS Website. George's father (George F. Coen, seen below) was one of the founders of the 99th BGHS and served for many years as the Newsletter Editor. Please take a moment and
read the "Preface" by George M. Coen
to get an understanding of how the 99th BGHS came about and a few of the pioneers who made it all possible.
View the full archive »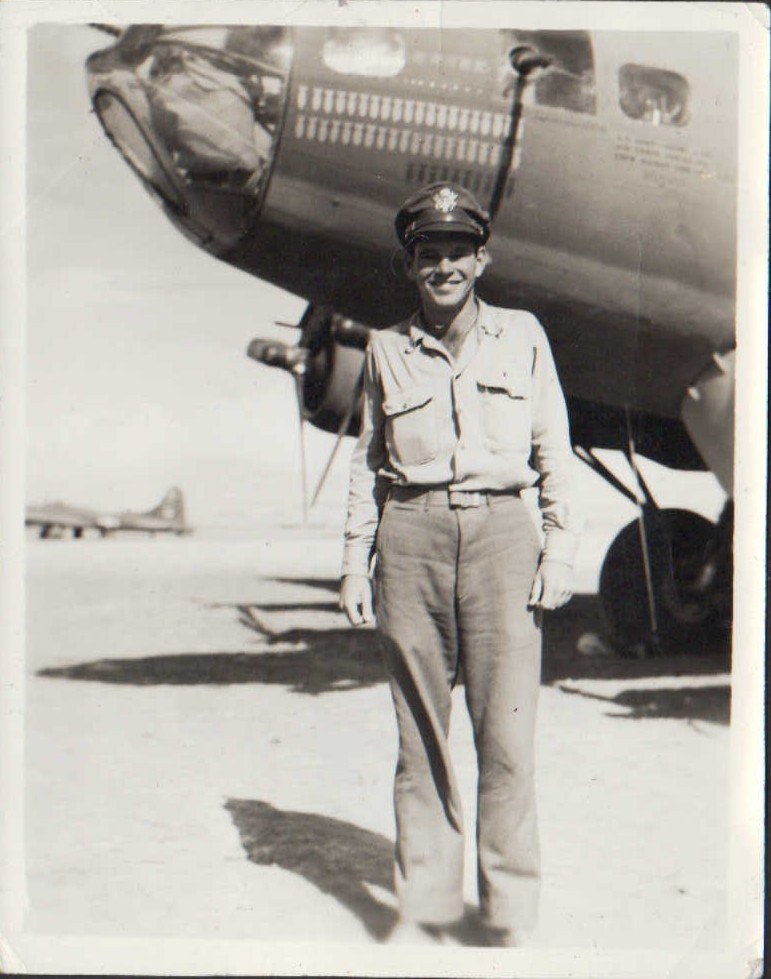 George F. Coen, Tunisia, September 1943
99th BGHS Letter of Recognition and Appreciation for Jerry A. Buckingham Service
July 31, 2017
On July 25, 2017 the 99th BGHS Officers, Board of Directors, and the membership had the privilege to recognize Jerry Buckingham for all of his accomplishments, and the fellowship he personally provided for each and all of us during his service the past sixteen years as an Officer and Member of the Board of Directors of the 99th Bomb Group Historical Society (BGHS).
Read More »
2nd Vice Presidents Message July 2017
July 2, 2017
Message from Gary T. Staffo thanking you for your continuing support and interest in the 99th BGHS, a request for an "emergency" point of contact for our 99th BGHS veterans, and our desire to work with you to preserve your materials and your history for posterity, and for the 99th BGHS.
Read More »
Mid-Atlantic Air Museum (MAAM) World War II Air Show and Mini-Reunion
July 2, 2017
On June 7-9, 2013, the MAAM in Reading Pennsylvania held its annual World War II Air Show. Several members of the 99th BGHS were in attendance and we were privileged to have a few veterans join us.
Read the Full Article »
Jerry Buckingham 99TH BGHS Treasurer Resigns Position Due To Health Challenge
July 1, 2017
Jerry Buckingham has served the 99th Bomb Group Historical Society (BGHS) as Treasurer and Database Manager for the past 16 years. He is currently undergoing chemotherapy in his continuing battle over the past few years with cancer. Due to the debilitating effects of treatment, he regrets that he is physically unable to continue to perform his 99th BGHS functions and responsibilities, and as of June 15, 2017 has resigned from his positions as an Officer and member of the Board of Directors. His Treasurer and Database Manager functions and responsibilities are currently being filled by Gary T. Staffo and Marty Upchurch, in an Acting position, until new volunteers apply and are considered by the Board of Directors for appointment to fill the positions. If you are interested in volunteering for either of these positions, please contact Gary or Marty for more information about the functions and responsibilities for each position.

During this time of challenge for the Buckingham family please keep Jerry and Amy, and their children in your thoughts and prayers. Due to the physical and emotional stress of the treatments, and travel back and forth to the medical facilities, the 99th BGHS requests you not call or email Jerry at this time, and any and all 99th BGHS matters be directed to Gary or Marty. We will keep you informed periodically on the 99th BGHS Website of the status of Jerry's battle.

You may wish to express your best wishes in writing to the Buckingham family at the address below, for a full and speedy recovery to good health, and recall memories of good times shared together at past 99th BGHS Reunions where Jerry and Amy always attended, and often opened and closed the Hospitality Room.

Mr. & Mrs. Jerry Buckingham
20 Flathead Drive
Cherokee Village, AR 72529

Thank you for your thoughts and prayers during this time of challenge.
98th Bomb Wing Reunion and 99th BGHS Honor Ploesti Veterans, Shreveport Louisiana, October 2011
July 1, 2017
Thank you to Lorraine Henning Kiewiet who shared her experience and photos at a veteran reunion event. "Over a four-day period in October 2011, in a Holiday Inn on the 'Other Side of Louisiana,' I continued my journey to hear the stories that my father (James Henning 99BG 416BS) didn't tell me about being a member of a World War II Army-Air Force B-17 bomber crew. The more I hear, the more I understand why he did not want to talk about it! And the more I want to connect with these wonderful veterans and keepers of America's captivating WWII history."
Read the Full Article »
Video: CMSgt Henry Sherman Fouts, USAF Ret. - Full Military Honors Funeral, Arlington National Cemetery
April 25, 2017
On January 29, 2016 Chief Master Sergeant Henry Sherman Fouts, USAF, Ret. was laid to rest with full military honors at Arlington National Cemetery. He passed away on September 3, 2015 at the age of 91. Thank you to the Fouts Family for sharing the video of his funeral.
Watch on YouTube »
Update on our 99th BGHS Officers and Board of Directors
April 22, 2017
The 99th BGHS has been challenged the past few years as time has caught up with many of our 99 BG Veteran Charter Members. This challenge, especially for our 99 BG Veteran Charter Members, has especially hit hard our 99 BGHS Officers and the Board of Directors. We are proud to announce that the following members were willing to serve, and were elected by the 99th BGHS Officers and Board to fill the following positions.
Learn More »
Annual membership dues
April 22, 2017
Please mail your $30 per calendar year annual dues to Gary Staffo by January 1st of each year. Mailing address can be found on the
Historical Society page
.
Our website reach
April 22, 2017
It's no surprise that the majority of our website traffic is from within the United States. However, you may also be interested to learn that in Q1 of 2017 6.5% of our traffic was from Italy and 2.7% was from the United Kingdom. In total, we saw traffic from over 32 international countries in Q1 of 2017.
Introducing the 99th BGHS Supply Store
April 8, 2017
If you are looking for items to proudly recognize the 99th Bomb Group, or a gift for a 99th BG Veteran, check out the items in the 99th BGHS Supply Store. We have pins, hats, patches, bumper stickers, and may create t-shirts if we have enough interest to support an order.
Learn More »
Book Review: The B-17 - The Flying Forts, by Martin Caidin
April 8, 2017
If you have
not
read a lot about the Boeing B-17, commonly known as the "Flying Fortress," this is a good introductory book for you to read. The book is reviewed by Gary T. Staffo, 99th BGHS 2nd Vice President.
Read More »
Reunion Information
January 28, 2015
The 99th BGHS is currently not sponsoring Annual Reunions. However, the 99th BGHS is interested in joining and participating with any other WWII 12th or 15th Air Force Bomb Groups who may be sponsoring a Reunion.
Announcing "Friends of the 99th"
January 28, 2015
The purpose of the
Friends of the 99th
is to support our efforts to further develop, preserve and share the history of the 99th BG with our membership and a wider audience. Under the umbrella of the 99th Bombardment Group Historical Society (a tax-exempt not-for-profit 501 (c)(19) Veterans organization), we are pleased to announce the formation of the Friends of the 99th to enable our members and other parties to more easily make financial and material donations to the 99th BGHS. The Friends of the 99th will provide an acknowledgment of your donation, for tax purposes and as a permanent record of your contribution.
Click here to learn how to make your tax-deductible donation
.
VIDEO: Interview with Henry Fouts
January 4, 2015
An interesting video interview Henry S. Fouts has been added to the
Links page
. Chief Master Sergeant (Ret.) Henry Fouts was an aerial gunner in the United States Army Air Forces (USAAF), completing 35 combat missions over Nazi occupied Europe during World War II.
BOOK: We Came to Fight a War: The Story of a B-17 Radio Gunner and His Pilot
December 29, 2014
The story of a 99th BG 346th BS Radio Gunner with the Lt. William Flynn Crew coming together and flying combat missions in 1944 and 45, with the 15th Air Force out of Tortorella, Italy, and the tragedy of a wartime injustice. Learn more in the Books section of the
Information page
.
Available on Amazon.com
.