It is with deepest sympathy and condolences that the 99th Bomb Group Historical Society (BGHS) announces that Jerry Buckingham, age 73, who served the 99th BGHS as Treasurer and Database Manager for the past 16 years, passed away peacefully at home in Cherokee Village, AR with his family on October 16, 2017 after a long battle with cancer. He was born December 29, 1942 in Muskegan, MI to the late Jerome Arthur Buckingham, Sr. and Rose (Paxson) Buckingham. Jerry is survived by his wife Amy and three children. Arrangements are incomplete at this time and you may check this
Wortham Funeral Home link
for updates, and to leave a message of sympathy and comfort.
You may wish to express your condolences and sympathy in writing to the Buckingham family at the address below. Recollections and photos of the memories of good times shared together at past 99th BGHS Reunions where Jerry and Amy always attended, and often opened and closed the Hospitality Room, would be welcomed.
Mrs. Jerry Buckingham
20 Flathead Drive
Cherokee Village, AR 72529
Due to the debilitating effects of his treatment, and his inability to perform his 99th BGHS functions and responsibilities, on June 15, 2017 Jerry resigned from his positions as an Officer and member of the Board of Directors. His Treasurer and Database Manager functions and responsibilities are currently being filled by Gary T. Staffo and Marty Upchurch, in Acting positions, until new volunteers apply and are considered by the Officers and Board of Directors for appointment to fill the positions. If you are interested in volunteering for either of these positions, please contact Gary or Marty for more information about the functions and responsibilities for each position. On July 25, 2017 the 99th BGHS Officers, Board of Directors, and the membership had the privilege to recognize Jerry Buckingham for all of his accomplishments, and the fellowship he personally provided for each and all of us during his service the past sixteen years as an Officer and Member of the Board of Directors of the 99th Bomb Group Historical Society (BGHS). (See the 99th BGHS Website
http://www.99bombgroup.org
)
During this time of challenge for the Buckingham family please keep Jerry and Amy, and their children in your thoughts and prayers. We will keep you informed on the 99th BGHS Website of the status of arrangements for services and other family wishes in honor and memory of Jerry.
Thank you for your thoughts and prayers during this time of challenge.
For all who had the privilege to know and meet Jerry, I think this photo captures his joyous spirit and how we will want to remember him.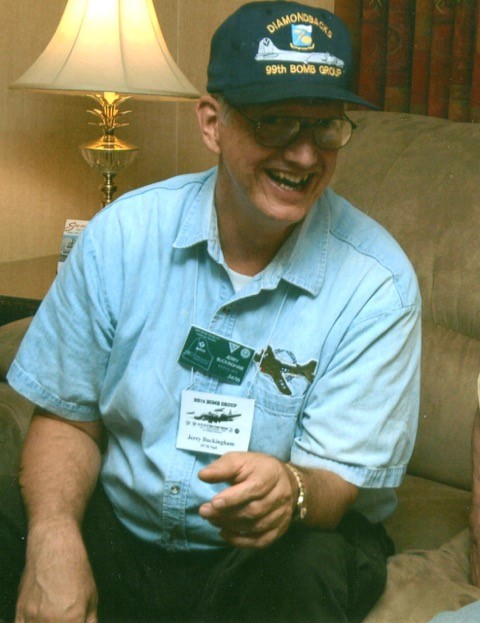 Jerry Buckingham, October 2005
at the 99th BGHS Reunion in Tunica, MS